Cable Fault Locator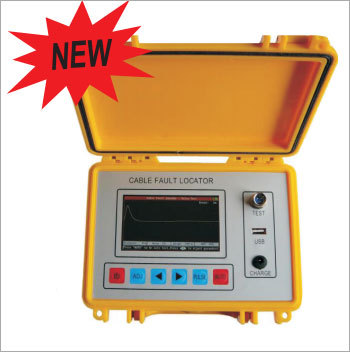 Cable Fault Locator
Product Code : KM-CFL-620
Cable Fault Locator

"KUSAM-MECO" underground Cable Fault Pre-locator Model KM-CFL-620 is an automatic Cable Fault Locator which adopts ARM, FPGA & Dot Matrix Color LCD display Technology. This tester combines both pulse reflecting technology (TDR) & intelligent Bridge testing (Bridge) for measuring the exact fault location such as broken line, cross faults, earthing, poor insulation & poor contact of the lead covered cables as well as plastic cables. It is capable of giving IR tests in Bridge mode.It is a microprocessor based fault locator with a user friendly menu. It is easy to operate. It tests almost all power cables, telecom & signal cables. It has an English menu which is easy to understand & use. With Megameter & Ohmmeter it enables to test insulation resistance & loop resistance. It has USB Port for uploading test data to computer.
FEATURES :
Small size, light weight and ABS plastic housing which is ergronomically designed for easy use by user.
Menu driven simple operation.
Measurement maximum 8 km in selectable ranges.
Tests any type of copper telecom and signal cables.
Range, VOP and Gain are selected automatically.
Color LCD Display (480 x 280 dots).
Automatic testing mode.
Both pulse reflection (TDR) and intelligent bridge(Bridge) testing for open, short, or low insulation cable faults.
With mega meter it enables to test insulation resistance and loop resistance.
Six function keys and simple operation.
Manual testing function is also available.
With 4 GB USB Pen drive, it is easy to upload memory data to computer.
Rechargeable lithium battery with intelligent charger
Continued 8 hours operating time on internal battery.
Rugged construction and easy to carry on site.
GENERAL SPECIFICATIONS :
Display Readout : Color LCD : 480*280·
Continued operating time : 8 hours
Charging time : 3 hours
Power Supply : 7.4V Rechargeable Li-ion battery. Charging voltage 230V +/-10%, 50Hz, single phase.
Storage Temperature : -15°C ~ + 55°C; RH <85%RH.
Working Temperature : -15°C ~ + 55°C; RH <85%RH.
Dimension : 212 (L) × 170 (W) × 90 (H) mm (approx.)
Weight : 1.20 Kg Net (approx.)

KUSAM ELECTRICAL INSTRUMENTS LLP
G-17, Bharat Industrial Estate, T-J Road, Sewri-West, Mumbai - 400015, Maharashtra, India
Phone :+918068214686
Fax :91-22-24149659/27751612
Mr. Pradeep (Director)
Mobile :+918068214686